Resources.  Opportunities.  Answers.  Updated 6. 22. 20 (listed most recent first)
For Your Mind
For Re-opening
For your Business
For your Workers
Guidance and Advisement
Policy, Legislation and Best Practice
Temporary Moratorium on Evictions and Foreclosures in New York and other states
Short-term waived interest on Federal Student Loans until further notice (contact your servicer)
Certain Mortgage Servicers are modifying terms ('pausing payments') without penalty (contact your servicer)
Unemployment Insurance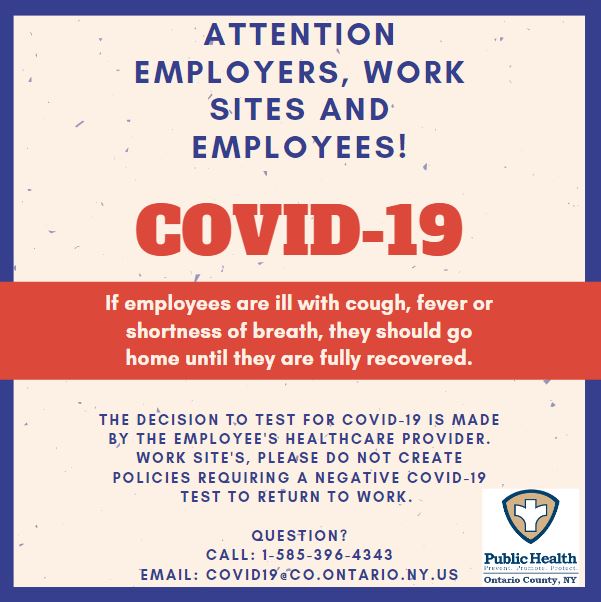 There exists a very real potential for the disruption of "business as usual" due to the spread of Coronavirus. Part of our role as a Chamber is to reduce this disruption by sharing timely information, providing helpful resources, and convening virtual and face-to-face opportunities for our members to maintain the sense of community that has seen us through other social and market irregularities.
There are things we can do:
Encourage frequent hand washing, the use of hand sanitizer and no-contact greetings
Consider transitioning from face-to-face meetings to virtual meetings or phone calls
Develop Plans for reduced or disrupted operations. Prepare your business and your customers for any disruption in your operations, whether the result of consumer behavior, supply chain issues or staff illness. Learn more about Business Continuity Planning here
Contact your financial institution(s) and determine their guidelines for remote management of your finance. Ensure access to emergency funding or a line of credit should your firm experience significant disruption
Contact your suppliers to understand changes in product availability, shipping time or cost
Craft a Communications Plan and stay in touch with your consumers using email, social media and on-site messaging
Use your resources and networks. Many firms belong to networking and industry associations that are disseminating industry-specific information to help their members remain in touch with issues and opportunities
Stay informed. Circumstances – and even regulations – change quickly. Consider the following resources when making plans for your organization, your employees, your volunteers and your consumers
Buy gift cards help local businesses struggling with their cash flow buy purchasing now and using their services later
Keep communicating!  Businesses need to communication to the community what they're still able to offer via website, email and social media.  Keep your Chamber updated!
Articles